London's Pride March and the World Cup… what we've been reading this week at Brand Genetics
17th julio 2018
| 3 minute read

We've been reading about everyday discrimination and a few revealing insights have caught our eye…
As anyone currently in England knows, the whole nation has been indulging in an orgy of football related joy as the national team progressed in the World Cup.  Many articles written in the past week were quick to call out that it had been 28 years since England last reached the semi-finals of a football Word Cup.  However, in all the hullabaloo, one key fact frequently got overlooked – England got to the semi-final of the football World Cup in 2015.  The fact that this was the women's team and not the men's shouldn't undermine the extent or the importance of the achievement.  However, you'd be forgiven for thinking that this had never happened with all the excitement over Gareth Southgate and his natty waistcoats.  This is not to down-play what the 3 Lions have achieved in the past few weeks, but does it deserve to eclipse what the Lionesses did three years ago?  This observation has been called out as an example of everyday sexism – a way of thinking and talking about gender that is so pervasive and ingrained in society, that most people simply don't notice it.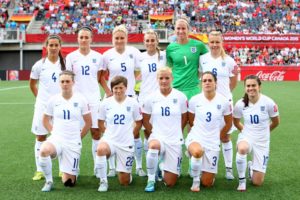 Money Talks… in a Male Voice
A far more obvious example of everyday sexism was the clear differences in pay between men and women amongst the highest earners in the BBC, which were published on July 11th.  Admittedly, exactly who gets paid what amount and whether they are actually worth the money is a subjective topic (OK maybe not Alan Shearer!), but what is inescapable, is that the top 12 earners in the company are all male and all white – even after many of them took pay-cuts in response to the public ire when their salaries were previously published last year.
While this clearly puts the BBC in a very awkward position, they are certainly not alone in facing challenges to ensure a diversity of talent at the top of the business ladder.  In 2015, it was reported that there were more than twice as many Chairmen and CEOs of FTSE 100 companies called John (or Jean) than there were women – 17 vs. 7! 
What is more, even if women do end up sitting in the big chair, they are still subjected to further examples of everyday sexism.  There is the story of Moj Mahdara, CEO of Beautycom who was asked what it was like to run a beauty company when she obviously did not wear make-up?
"Neither do any of the other Fortune 500 companies who are run by men,"
was her brilliantly insightful response.
Take a minute to think about the assumptions that lie behind that question:
That all women should wear make-up
That only women should wear make-up
That CEOs should all personally use the products that their company sells as a prerequisite for running the business
It is highly doubtful that these same assumptions would be made about Camilo Pane the CEO of Coty – though I'm sure he'd look absolutely dashing in a bit of Max Factor!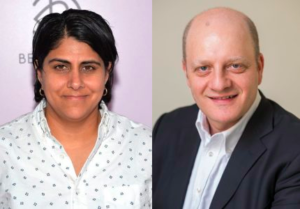 Changing with Pride
July 7th saw the streets of London become rainbows of colour as Pride 2018 marched through the English capital.  With its origins going back to 1972, it has become one of the biggest celebrations of diversity and equality anywhere in the world.  In the days that followed, many companies posted pictures on their website or on social media accounts, showing their employees taking part.  Unilever – led personally by CEO Paul Polmon – were front and centre in a way that was entirely consistent with their company ethos.  He tweeted:
"Wonderful day with my London Unilever team celebrating the LGBT+ community.  Very proud of the all"
Though once considered business suicide, association with the Pride movement has come to be celebrated and even expected of institutions – with the likes of the WWF, Royal Mail and British Museum all keen to announce their involvement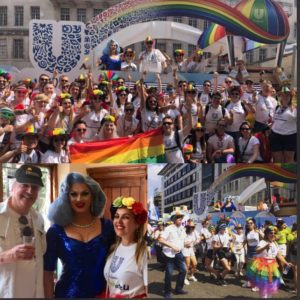 This begins to show the importance that companies now place on building inclusive and diverse workforces – in terms of gender, sexuality, age, race, religion and class (to name just a few key elements of identity).  This is not to say that every business has to have one of each – it's not like collecting Panini stickers – but rather that these things should never be a barrier to entry, workplace happiness or advancement.  The days of the "white-men-only-club" are over and celebrating intersectionality – the multiplicity and complexity of human identity – should be the norm.
The reality, as the BBC pay data shows, is that this may still be quite a long way off for many businesses.  Not because they have actively discriminated in some intentional way, but because everyday discrimination is inherent in many organisations and it will take time to actively unlearn the subconscious prejudices.  This doesn't make these companies bad companies or even bad places to work, as long as they are actively working to change.  Every business will have their own unique journey towards creating an inclusive workforce and some are advancing more quickly than others.
The final word should perhaps go to the LGBT+ activists from six different nations who used the World Cup in Russia as a platform to call for equal rights.  This is particularly interesting as Russia has been heavily criticised about its approach to homosexuality.  Using the football shirts of Spain, the Netherlands, Brazil, Mexica, Argentina and Colombia, they have been touring around Russia bringing the Pride rainbow flag to life in powerful and imaginative way.
The Human Experience (HX) learnings?
The simple ideal is that any discrimination is wrong and should be eradicated.  The complex truth is that change takes time and it is especially hard to change something that you yourself are blind to.  However, brands that embrace this changing landscape are the one who will ultimately reap the rewards – they will attract the best talent, retain the best employees and get real competitive advantages.
At Brand Genetics, we believe in celebrating the things that make us uniquely human and respecting each other's individuality.  Are we perfect at this?  No.  Can we get better at it?  Absolutely.  But, hopefully, it already makes us more open to change and seeing the truth when we are presented with it.  It also helps make us more empathetic and able to understand where different people are coming from.
Everyday discrimination is real, it does exist and it is on all of us to call it out and end it, once and for all.