Cultural Mash-Ups: Why FMCG should follow the fashion
13th March 2013
| 3 minute read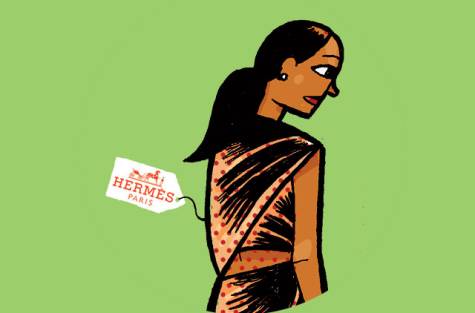 As regular readers will know one of the themes we often return to is 'innovation is a remix' – the idea that every innovation it built on a previous idea, just mixed up in a new and interesting way. Nowhere is this clearer than in the world of emerging markets where, from China to Brazil, from Nigeria to Russia, we can increasingly see Western brand thinking being taken and mixed up with local culture, traditions and tastes to create cultural mash ups.
Western brands were often seen as a mark of status in emerging markets, but they are increasingly losing their lustre as local markets start to celebrate their own heritage and culture. This is not least because many of these markets are seeing great growth and change taking place – and the West is starting to seem rather stagnant as a result.
Fashion – a 'product' that is more easily adapted than most FMCG brands – offers an example of the growing aspirations of local consumers. Take Nigeria or Ghana, both thriving markets in West Africa, as examples: here Western cuts are being blended with local materials to create uniquely African clothes that still retain some of the more attractive elements of European design.
This epitomises a sense that whereas in the past the aim was to escape (really or metaphorically) to a more developed market, now there is a more even playing field. Consumers in fast growing but less developed markets want to be part of global culture – but they want it to have a local twist – rather than just to import it from somewhere else: perhaps 'glocal' might be a good term. Hence Luxury brand Hermès is successfully selling French-made saris in India.
This should give global FMCG brand and innovation teams plenty of food for thought: how can they give their brand a local twist to turn it from a 'Western' brand into something more glocal? Not least because local brands in these markets are increasingly sophisticated and well regarded, and have the advantage of being truly embedded in the market's culture: so if global brands don't do it the local brands will.
The brands that are already doing it are reaping the benefits: look at KFC in China, where its localise offering (congee and egg tarts) are helping them 'beat' fast-food rivals McDonalds. Kraft has developed an Oreo for Chinese taste buds, with less sugar and exotic flavours such as green tea. In West Africa, Heineken has developed malt versions of its Amstel brand – Amstel Malta – to appeal to local tastes.
Of course it can also go horribly wrong – this is the brand equivalent of turning up in Mexico in a sombrero and thinking you're going to fit right in! Launched in Japan in 2009, Pepsi Shiso was made with a herb which even the Japanese only used as a garnish to hold the wasabi – and was rightly only deemed best as a one-off limited edition: it was deemed by some to be 'the most disgusting Pepsi ever made'.
This is where consumer co-creation is a huge opportunity, for whilst fashion provides a much more flexible creative canvas, most brands are harder for the consumer to 'mash up'. By collaborating with creative consumers in these markets, brands can avoid the metaphorical 'sombrero' whilst ensuring that what consumers love about you in the first place is not lost. Those who doubt such methodologies would do well to remember that the consumers in these markets are already creating – it's just a question of whether your brand wants to be involved in that process or not.