Shifting Sands – The Changing Face of Saudi Arabia
1st August 2018
| 3 minute read

What does a Millennial Saudi Prince mean for the future of a nation?
It's a question we've pondered for a while as it could mean seismic changes for Saudi Arabia. Having conducted an in-depth study it appears big changes – and opportunities – do lie ahead and now's the time for brands and businesses to take advantage.
The country is experiencing a monumental revolution both in terms of social and economic change. To begin with, the nation's reliance on oil is diminishing, its youth are ambitious and grasping the emergent opportunities as they come, and half the population – women – are experiencing freedom and choice never before allowed within the boundaries of the nation
To help you understand 'where next' for KSA we've conducted a multifaceted study that reveals seven key drivers of change and highlighted their implications for your business and brand.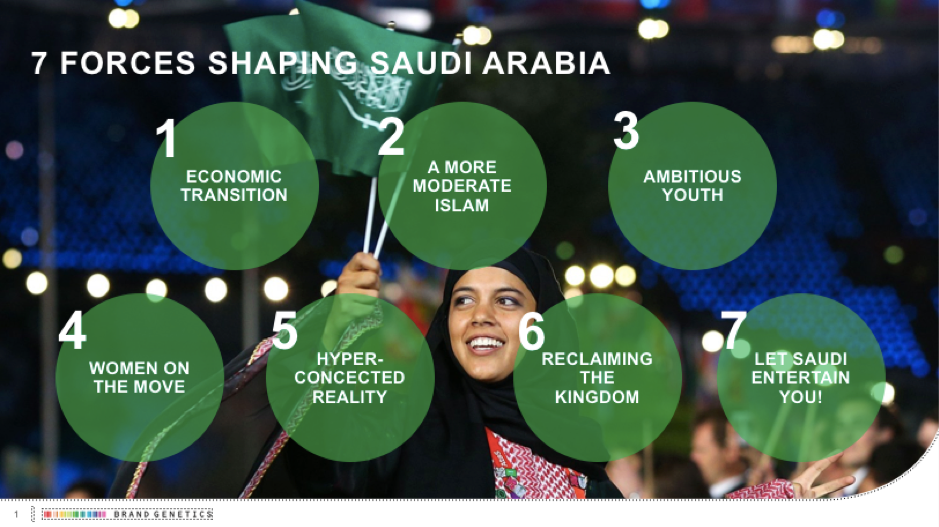 At Brand Genetics we're constantly looking to understand how changes, big and small, are impacting people's lives, their wants and needs. If you want to talk about how we can help with your insight and innovation challenges – both in Saudi and beyond – please get in touch.
To ensure you get the latest insights, straight to your inbox, make sure you are subscribed to our blog!