Speed dating with start-ups
9th March 2017
| 3 minute read

"Bite size pitches for busy investors" grabbed my attention, so off I went to Seedrs in Old Street last week, keen to gain insight into how new innovations are being pitched in 2017.  Seedrs' offer is to make it simple to buy into businesses you believe in, and to share in their success.  With offices in 5 countries, they invite online investors to back new startups, claiming to be "equity crowdfunding done properly".
There were 7 different startups, all pitching for investment.  Each entrepreneur makes a 3-minute pitch – and 3 questions are then allowed from the audience of potential investors.  So it's speed dating for innovation startups, if you like.
I was struck by the passion of the startup founders and the ingenuity of some of their business ideas.  First up was Bonnie Chung from Miso Tasty, who make easy and nutritious snacks and meals featuring their signature miso ingredient.  Bonnie started by asking how many people eat Japanese food (Itsu, Wagamama, etc).  Every hand went up.  And how many make Japanese food at home?  Only 2 to 3 people.  So there's the Miso mission in a nutshell – make it easy for people to enjoy the taste and health of Miso meals at home.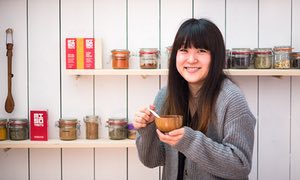 Other food and drink pitches included Humble Grape, already owners of 2 highly rated winebars and on a mission to make handcrafted wines accessible to all, and Aduna, a new health food brand bringing African superfoods to the global market, starting with baobab, the feel good fruit.  Both these businesses (like Miso Tasty) have already started up successfully, and are looking for additional funding to aid their next-stage expansion.
New to the world pitches came from The Funky Iron Co, looking to bring style and design to functional steam irons (think Kenwood kMix for ironing), Enclothed, a service for men to outsource their clothes shopping (personal style in a box) and MacRebur, who call themselves "the plastic road company", using waste plastic bottles to create stronger and longer lasting roads, to make potholes a thing of the past.
Startup investment is probably a combination of both art (do you believe in the person) and science (do the numbers stack up).  And many of these forward thinking businesses tick both boxes.  Take Miso Tasty, where the highly impressive Bonnie Chung raised 100% of her target funding within just 2 days.  They now have over 180 investors (myself included) from 14 different countries across Europe, who have raised 50% more than the investment sought.  Maybe speed dating works, after all!