The Future of Craft Beer – 6 Trends from CBR 17
3rd March 2017
| 3 minute read


Boasting over 150 breweries and armed with more than 700 beers and ciders between them, Craft Beer Rising 2017 is a "must see" event in the craft beer calendar.  I joined some of the 2000 trade members and 6000 craft beer lovers at the session in Brick Lane, London and emerged, several hours later, with the six trends shaping the future of craft beer innovation … and a few samples too.
1. Time for a coffee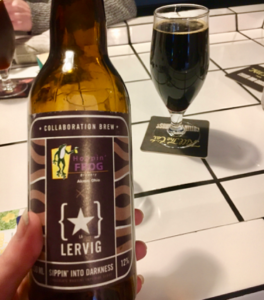 As two of the most prolific drinks in the UK, it was only a matter of time before these on-trend categories collided.  In truth, beer the claimed to provide 'coffee notes' has been around for a while, but brewers have now unlocked the ability to go beyond aroma and appearance and deliver beverages with an incredible synergy of flavours.
Saranac Brewery (www.saranac.com), whose cold brew coffee lager self-professes to be "not just another coffee beer", is a real one to watch. Along with Sippin' into Darkness by the Norwegian brewery Lervig (lervig.no/en) which is the perfect after-dinner reward.
2. Absolutely blended
Excessive teenage excitement taught many of us the perils of mixing drinks, however, now that brewing experts are turning their hand to more adventurous combinations, it is getting increasingly tempting again.  A "hauf and hauf" of whisky and beer is a classic Scottish pairing and this trend is now spreading wider with many brewers pursuing that perfect cocktail.  Auchentoshan whisky (www.auchentoshan.com) meaning "the corner of the fields" in Gaelic, is taking the lead in this area.  Building on their signature 'Auchentoshan and Ale' combo, they are now working with local breweries to take this concept on the road.
Blending is also a trend across beers, with breweries such as Cantillon (www.cantillon.be)  combining the diverse and unique taste profiles of its oak aged lambics from across the years to formulate a final bottle of 'Gueuze'.
3. A new world order
Part of the thrill of craft beer is that anyone can do it – it is a collaborative, not competitive pastime, and the result is that craft beer escapes the so-called 'wine snobbery' of providence.  For the avid fan, hunting down the most sought after beer is part of the excitement and in 2017 that search is taking people to new places not typically associated with brewing beer.
In particularly the spread of American hops has opened doors with brewers all wanting to put their own stamp on a modern classic. For example, Unorthodox Brewing from Slovakia are collaborating with independent brewers in Bratislava (including www.dubbrew.com) to use traditionally State-side hops in exciting new ways. Similarly, Spain (which, although a renowned beer drinking country, still imports 90% of its brews) now offers some hidden gems including Edge Brewing (edgebrewing.com) which provide an innovative Spanish twist to larger.
4. A modern take on hazy memories
Hazy, smooth and big bodied, no not the morning after the night before, this is in fact the rising New England style beers.  Introducing the hops earlier in the process gives the beer a super-fresh flavour with less bitterness.  The aptly named 'three's company' collaboration between Cloudwater (cloudwaterbrew.co), JW Lees (jwlees.co.uk) and Magic Rock Brewing (www.magicrockbrewing.com) is a fine example of the art.   For those seeking more complex tastes, 2017 will see an increased number of new flavour and appearance profiles.  As the craft scene continues to boom, innovative plays on traditional styles will be at the forefront.
5. Something to celebrate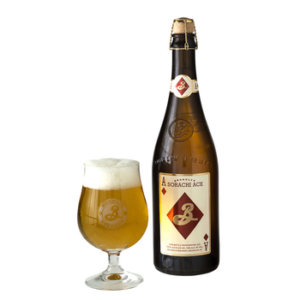 As food and beer pairings continue to innovate in 2017, brewers are finding new opportunities in providing premium centrepieces.  Brewers are looking for adventurous new ways to stand out in this space.  For example, Brooklyn Brewery's Sorachi ace Saison (brooklynbrewery.com)which includes Champaign yeast, has now been made a permanent brew for 2017, having started off as part of Brewmaster's reserve series.
Similarly, you only have to look at the wine-style branding of beers such as the Teo Musso Reserve range by Italian brewers Baladin (www.baladin.it) to appreciate the potential of the 'big bottle' as an exciting new territory.  Premium occasions are about to get a lot more beery.
6. Kicking the can
The can vs. the bottle has long been a heated debate amongst craft beer fans.  A bottled beer's flavour changes and matures over time due to factors such as light passing through the glass, whereas a canned beer preserves the flavour it held at the time of production.  For many brands, canning was traditionally seen as a cost saving method and the brew was not given chance to develop its full flavour profile before packaging.  However, craft producers have given new life to the can and packaging innovations such as the 360 design, shown here on Mike Hess Brewing's double IPA 'Habitus' (www.mikehessbrewing.com), have facilitated a near perfect flavour experience.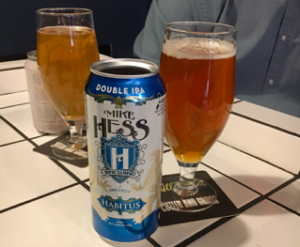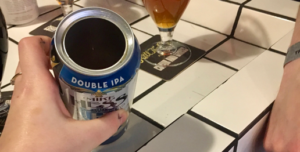 Overall, the UK's craft beer scene is very much alive and vibrant.  2017 will be a year of collaboration as the world's styles, influences and techniques continue to spread and diversify, fuelled by the common love of a great tasting brew. I can't wait!
Thank you to all those at CBR 17 and our friends at Kill the Cat (www.killthecat.co.uk)  See you next year!
Co-written by Ben Preston