Unilever – How to Build an Insights Engine (HBR Summary)
21st November 2016
| 3 minute read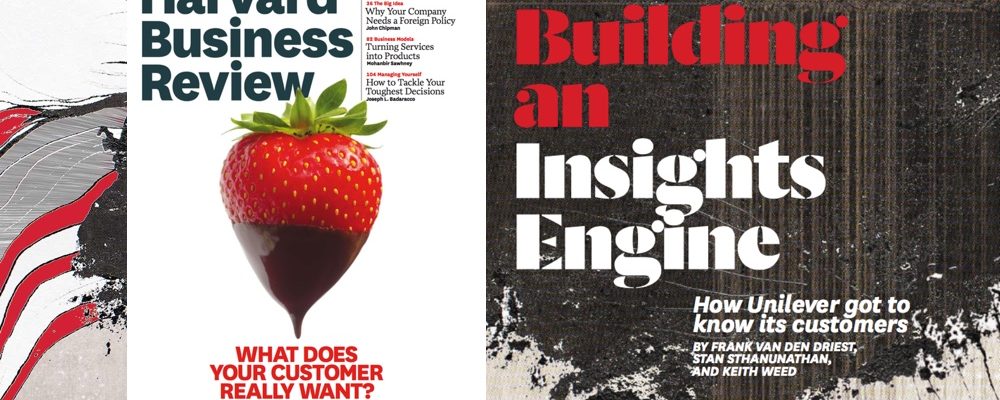 In the latest Harvard Business Review special edition on consumer insights, Unilever has shared its 10-point blueprint for "building an insight engine". Penned by Unilever's Keith Weed (CMO) and Stan Sthanunathan (eVP CMI) (along with Frank van den Driest), the article is useful for brands looking to use insights rather than simply generate them.
What is an "insight engine" you may ask. It's a motor that drives evidence-based business decisions and strategy.  An insight, like an engine, is only useful insofar as it powers something, and for Unilever, what insight powers are business decisions, and in doing so, business strategy. For the record, an insight here is an evidence-based understanding of your customers' needs or motivations that is used to inform business decisions.

The ten characteristics of a high-performance insight-engine are summarised here, but there are a some we particularly like.  Of course, we love the focus on forward thinking, and the idea of experimentation as a new gold-standard technique insight-generation, using real world tests to generate evidence to identify opportunities and inform decisions. But we also love the three core competencies required in insight today – business-focus, story-telling and whole-brain thinking (don't worry – whole-brain thinking doesn't rely on the brainless left-brain-righ-brain myth – see description and chart below)
Operational Competences
1. Data synthesis – ability to extract value from disparate data by generating a single-market-view used across the business
2. Independence – sits outside strategy, marketing or innovation, and reports directly to CEO
3. Integrated planning – used by strategy, marketing and innovation to inform decisions
4. Collaboration – not a service provider for other departments, but a voice of the market partner
5. Experimentation – embraces a test-and-learn approach to business, learning from small scale tryouts of ideas (alternative to death by focus group/survey)
6. Forward-Looking orientation – focuses on anticipating and testing future opportunities
7. Affinity for action – insight that doesn't inform a decision is pointless, so focus on action rather than learning
People Competencies
8. Whole-brain mindset – requires a set of competences, ability to integrate data, ability to make insight-led decision recommendation, ability to run and scale experiments, ability to communicate to the business
9. Business Focus – requires business acumen and business literacy, consumer understanding is valueless to the business if it doesn't inform a business decision
10. Story telling – ability to communicate insights through the business in a usable and engaging manner
On story-telling, we love the re-branding of insight in the article as I&A (insights and analytics). We're betting that brands will take this further – and we'll soon see traditional insights departments re-branded as AI (analytics and departments).
Who wouldn't love saying "I work in AI"?