6 Innovation Lessons from the Global Innovation Forum
25th novembro 2014
| 3 minute read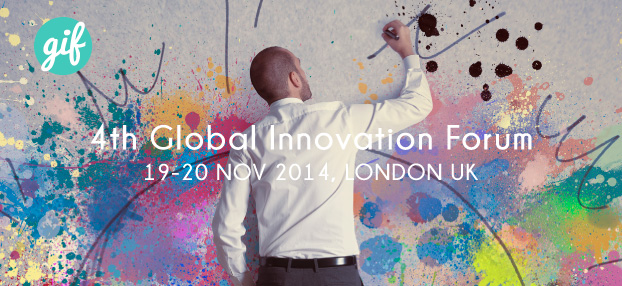 Last week the 4th Global Innovation Forum rolled into London town and Brand Genetics chaired the event, which gathered a diverse range of innovators from around the world to share and learn from one another. We all learnt a huge amount over the course of the two days, but here are 6 key themes that emerged which we thought worth sharing:
1. The world has changed: It's not changing it's changed! At the conference we heard how you can now take 'Dronies' (selfies from a drone) and 'Yelfies' (where you shout and the camera snaps you), drive cars designed to have the bodies of athletes (the new McLaren P1), drink Kola that isn't just sugar water (Pepsico's new Caleb's Kola launch), have a computer create surprisingly tasty original recipes (IBM's Cooking Watson). In this complex, fast changing world CEOs from the world's leading companies now believe the crucial leadership skill – more than rigor, management discipline, integrity or even vision – is creativity
2. You need to understand what's coming next: whether its understanding the trends and megatrands, looking to entrepreneurial start-ups for new ideas, or getting insight into influential future generations like Gen Z, every business needs to innovate for the future. If you create the perfect innovation for today and chances are increasing that it will be out of date by the time you get it in front of the consumer
3. Find the Crazy Ones: Innovators  are a special breed with a unique DNA – they embody the qualities of observing, questioning, associating, experimenting and networking. In large organisations you have to be a little bit crazy to be an innovator because innovation means challenging the way of doing things – so find the likeminded people in your organisation (you don't need many of them) and work together to challenge the status quo
4. Collaborate, Collaborate, Collaborate: Joy's Law states all the smartest people work for someone else… the good news is that increasingly those people are open to working with you to create tomorrow's solutions. Work with different functions internally, with customers and consumers, with partners – even with competitor ('co-opetition') and bring their outside perspectives and skills into your organisation
5. Stop thinking, Start Doing: A strong message that innovating is not simply an intellectual exercise, in the words of Nike sometimes you have to 'Just Do It'! Whether that's using design thinking or prototyping or preto-typing it's important to start making stuff real; not least because until it becomes real it's all super-scary for senior executives worrying about these 'crazy' (see above) innovation people rocking the boat
6. Ultimately you need to stay uncomfortable: To be creative, you need to embrace the chaos of divergent thinking. Creativity comes from a conflict of ideas, it can feel messy, challenging uncomfortable; but until it does – and indeed until you're failing 50% of the time – you're not pushing yourself hard enough. After all, we're all looking at the same problems: you need to ask yourself how are you going to do something different?
A huge thanks to all the speakers at the conference – as well as the attendees – from whom we learnt so much. Too many to name check here but it was our pleasure to draw insight and inspiration from companies as diverse as NASA and Pixar, Pepsico and Google, Mondelez and Lego to name just a few. We look forward to seeing you again in 2015!