Speed Summary: World Happiness Report 2022
8th April 2022
| 3 minute read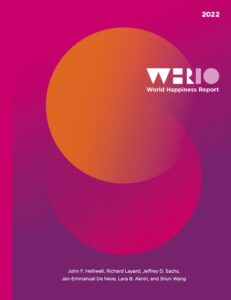 Author: John F. Helliwell, Richard Layard, Jeffrey D. Sachs, Jan-Emmanuel De Neve, Lara B. Aknin, and Shun Wang
Publisher: UN Sustainable Development Solutions Network
Publication: 2022
War in Europe is devastating lives and livelihoods, but the latest World Happiness Report reveals the path to a brighter future, with key insights for consumer brands.
It might seem incongruous to publish a report on human happiness in 2022, as the world counts the costs of a global pandemic and witnesses the breakout of war in Europe. Combine war and disease with extreme weather events and a looming economic crisis, and happiness may be the last thing on many minds right now.
But this tenth edition of the UN's annual World Happiness Report (WHR) is a bright spot in dark times.
It's a bright spot because it offers three particularly useful insights into how to promote human wellbeing and welfare and, by implication in the world of marketing, how brands can help make a positive difference in people's lives today.
Based on a global survey of 119 countries, with 1000-3000 participants per country, the WHR famously ranks countries by the happiness of its citizens, which is defined in terms of experiencing life positively.
As usual, Northern European countries come out top, with Finland, Denmark, Iceland, Switzerland, and the Netherlands being the countries where you'll find the most happiness. This year, the US comes in at 16th, the UK at 17th and Brazil at 38th.
At the bottom of the list, you'll find war-torn Afghanistan, along with Lebanon, Zimbabwe, Rwanda, and Botswana (see the full rankings below). The data was collected before the Russo-Ukrainian war escalated so dramatically in February 2022, but the report ranks Russia at 80th, and Ukraine 98th in terms of citizen happiness.
Country Ranking of Happiness
The drivers of positive life experience
One of the most hopeful findings of this year's WHR is that it reveals that humans are remarkably resilient in the face of crisis and catastrophe. Despite the global pandemic and its consequences, global levels of happiness have not dropped significantly.
The report provides some interesting evidence that some of this resilience appears to be down to human genetics; as a species, we seem to have an extraordinary natural ability to adapt and see the positive in life – even in dark times. Of course, global averages mask important geographical, demographic and individual differences.
For consumer brands, the most useful insights from the WHR come from data analytics used to identify the core drivers of happiness – positive life experience. Whilst they are many drivers of happiness, three themes stand out – all with real implications for consumer brands.
Benevolence drives wellbeing. The WHR defines benevolence as a positive combination of trust, generosity and kindness, and the prevalence of benevolence is a key driver of happiness. The more you are around people who are trustworthy, kind, and generous and the more you practice being trustworthy, kind, and generous yourself, the better your life experience will be. We have seen a global outpouring of human benevolence – trust, generosity, and kindness during the pandemic, and now during war. Brands that want to make a positive difference to people's live will practice brand benevolence – by being trustworthy, kind, and generous
Freedom is key. Happiness thrives when people feel free to choose what they do with their life. Self-determination matters – not just for countries, but for people too. Brands make a positive difference is to people's lives when they are aligned with people's own intentions
Money and health matter. As you'd expect, money and health matter (as measured by GDP per capita and healthy life expectancy) when it comes to wellbeing; human happiness flourishes with prosperity and good health. Putting brands to the service of human health and human propserity is how consumer brands can make a positive difference
These three insights provide a human-first blueprint for how brands can make a positive difference in people's lives. Practice brand benevolence by being trustworthy, kind and generous; respect human freedom and agency; and promote human health, happiness and prosperity.
These are hallmarks of 'good brands' – quite literally – brands that are good for humans.
The BG Take: A Positive Future for Positive Marketing
At Brand Genetics, we say we do 'human-first' insight and innovation. But what does human-first mean?
This year's WHR reveals what human-first means – it means understanding and creating value for humans by putting human health and happiness first. It means focusing on life experience, not product experience. And it means promoting brand benevolence, where brands offer genuinely helpful solutions that people can trust to make a positive difference in their lives by helping them realise their goals and potential. This is why we're a mission-driven agency that is fanatical about building brands that help people live happier, healthier and more fulfilled lives.
We're not in the business of upgrading brands, our human-first approach is about upgrading human lives.