The Imbibe speed read 2023
19th July 2023
| 3 minute read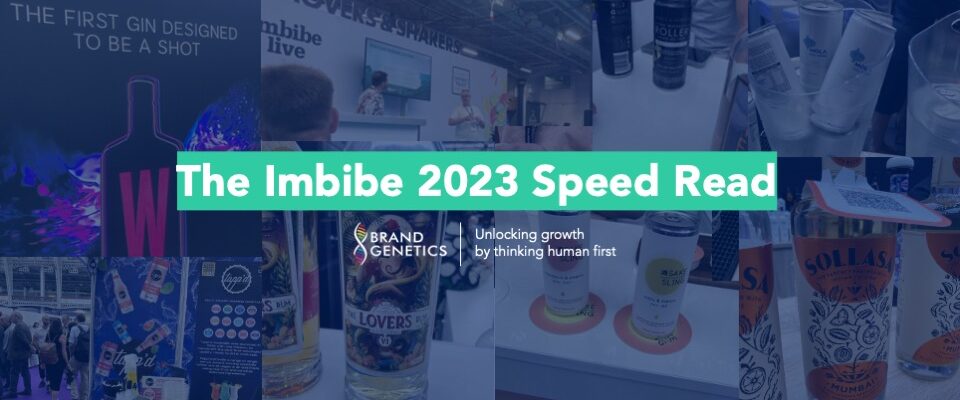 Imbibe continues to be one of the highlights of the UK alcohol innovation calendar. A prime chance to see new arrivals and the focus of importers, distributors, and brands alike.
Couldn't make it?
Fear not, as always, Brand Genetics was on the ground trend hunting and here is the speed read of the hottest picks of the day:
Functionality continues to evolve as a spectrum.
Consumers continue to seek more flexibility & variety in drinking moments (both elevation and relaxation).
So what?
On one hand, this can bring success doubling down on owning a single moment – trading versatility for optimisation. For example, Sollasa focusing on "the perfect partnership with Indian Cuisine"
On the other, this has created further opportunities for no/ low and alt – where producers are waking up to the fact that, to win, it is about a lot more than stripping out the booze! Cue a raft of 'mood management' innovations.
CBD brands such as Mola have seen growth in both boosting no/low & supercharging full strength cocktails (no wonder with a +14.9% yoy rise in the value of cocktails according to CGA).
Finally, alongside the buzz of CBD, nootropic brands such as impossibrew and Sentia remain hot topic for alternative kicks with fewer downsides the next day.
Premium isn't the full party
As both consumers and the trade try to adapt to the ongoing cost of living pressures by 'rationalising drinks ranges' the rush to premiumisation seems to have calmed a little.
Who is capitalising?
In the RTD space Buzzball (of US fame) was out in full force alongside brands such as Tapped who serve a reminder of the power of the 'say do gap' when it comes to health drivers – there is clearly plenty of headroom in sweet and full flavour.
A crossover with the above point on 'owning a moment'  Wattshot, also came with a statement. They are finding growth opportunity by throwing caution to the premium wind and unlocking the shot occasion despite the wider Gin category being touted for decline.
Rule breaking, planet saving?
Potentially our favourite find of the day, Alkemy Distillery have taken the rum rule book and shredded it in the name of sustainability.
Identical in all but ingredients, this is made from 100% British grown sugar beet and coloured naturally (harnessing a mind-blowing combo of 70's ultrasound machine and a UV lamp!)
Naturally coloured, low food miles and a delicious final product.
So what?
A wider conversation about whether the legislation in spirits are limiting sustainability is probably in order – but a useful provokation on how innovation can unlock opportunity for consumers AND planet!
We found this particularly pertinent in the context of the RTD explosion, where flavour is king and spirit base is murky – this could be a big unlock for superior products.
Are you looking to unlock growth for a current or future brand? Speak to our team of alcohol insight experts today!